Our 2nd theme this year is Power. This rich and enduring topic guarantees to take us across multiple disciplines and myriad ideas. Students were asked to consider the prompts 'Power to…', 'Power of…', 'Power is…' and 'Power is not…'. Through foundational lessons diving into history, technology, physics and politics, we'll explore everything from corporate monopoly to herd mentality. Working collaboratively, students will create projects of their choosing as well as blended genre research papers.
The Process
For our PBL (Project Based Learning) Units, we work daily for 2+/- hours and units last approximately 8 weeks. Our units have 4 distinct phases, outlined here:
Tinker/Discover- this first phase lasts approximately two weeks, and includes LOTS of brainstorming and idea-making activities. Students work to unpack the theme on their own before experiencing an 'Information Blitz' followed by Foundational Lessons from each of our Middle School teachers in their respective areas of expertise. Using the QFT (question formulation technique) students start to discover and explore the theme through questions they have, often based in their personal areas of interest.

Create- as students begin the 'Create' phase, they are required to complete a project proposal, budget and prototype that are approved by the teaching team. Then they dive right into research, gathering information that will unpack and explore their individual driving question and their group's overarching question. They have specific requirements for their deliverables, including a 'Blended Genre Research Paper' and a creation of their choice. This phase lasts approximately 4 weeks.

Present- having students prepare for and give presentations is an essential part of their learning in the Middle School program. Students give at least one presentation for each phase of our unit. Sometimes they are very brief 'mini-presentations' and sometimes more elaborate. We want students to be comfortable speaking in front of others, organizing their thoughts and ideas, and preparing any materials needed. We also practice giving and receiving constructive criticism, and crafting interesting questions to ask during a presentation. Students spend about a week sharing their project presentations with one another once the 'Create' phase is complete!

Reflect- it's been proven through recent brain science that learning happens when ample time is given for reflection. Students follow up the 'Present' phase with a full week of reflection. During this time we complete self-assessments, peer-assessments and teacher assessments, and share our learnings as a group. We also work to archive and organize all of our research, materials and media from the creation of our projects so they may be referenced later by future students.
What is power? In our initial brainstorm session, students came up with so many ideas they barely fit on our whiteboard.
The Tinker Activity
We use a 'Tinker Activity' to kick off our unit- students are given a challenge to complete in self-assembled teams with limited constraints. It's a chance for them to think critically, problem solve and collaborate. It gives the teaching team an opportunity to observe students as they work individually and as a team and start to identify their strengths, weaknesses, and personalities. In this activity, students were challenged to build a vehicle powered by a rubber band.
Power To… Power Of… Power Is… Power Is Not…
Students took time to consider how framing power in these differing but similar statements allowed them to have multiple perspectives of Power.
Question Formulation Technique
Each unit, we choose a book to read aloud as a group. We read during short breaks, whenever our brains are fried, or when the group needs something to collectively focus our energy on. For our Power unit, we read Animal Farm, sparking some incredible discussions about propaganda, messaging, truth and power.
We honed our QFT this unit, and simply having done it once before allowed students to dive right into meaningful, insightful ideas. We witnessed students iterate and refine questions, and explore their initial interests within our Power theme. Below are some images from the experience.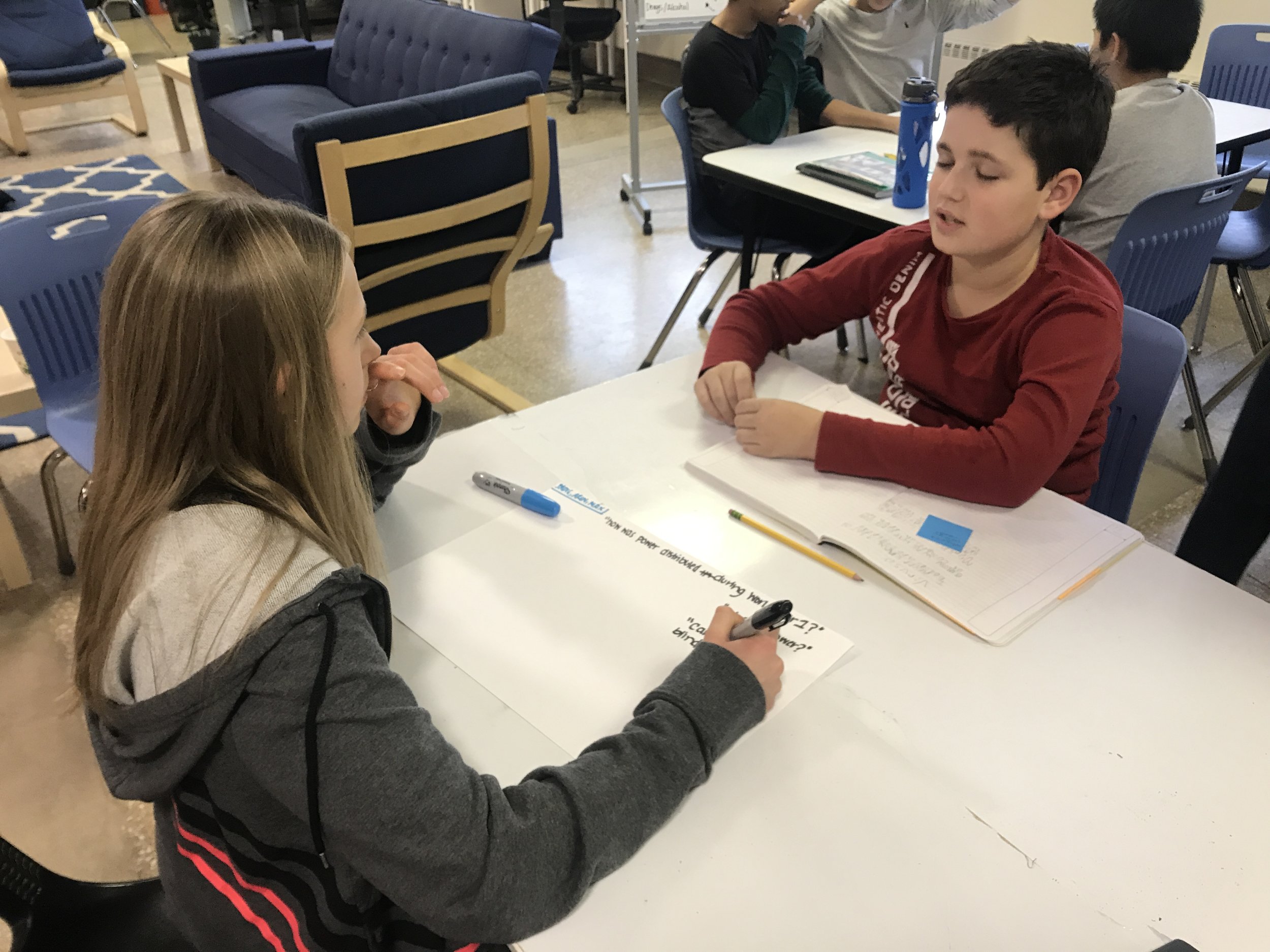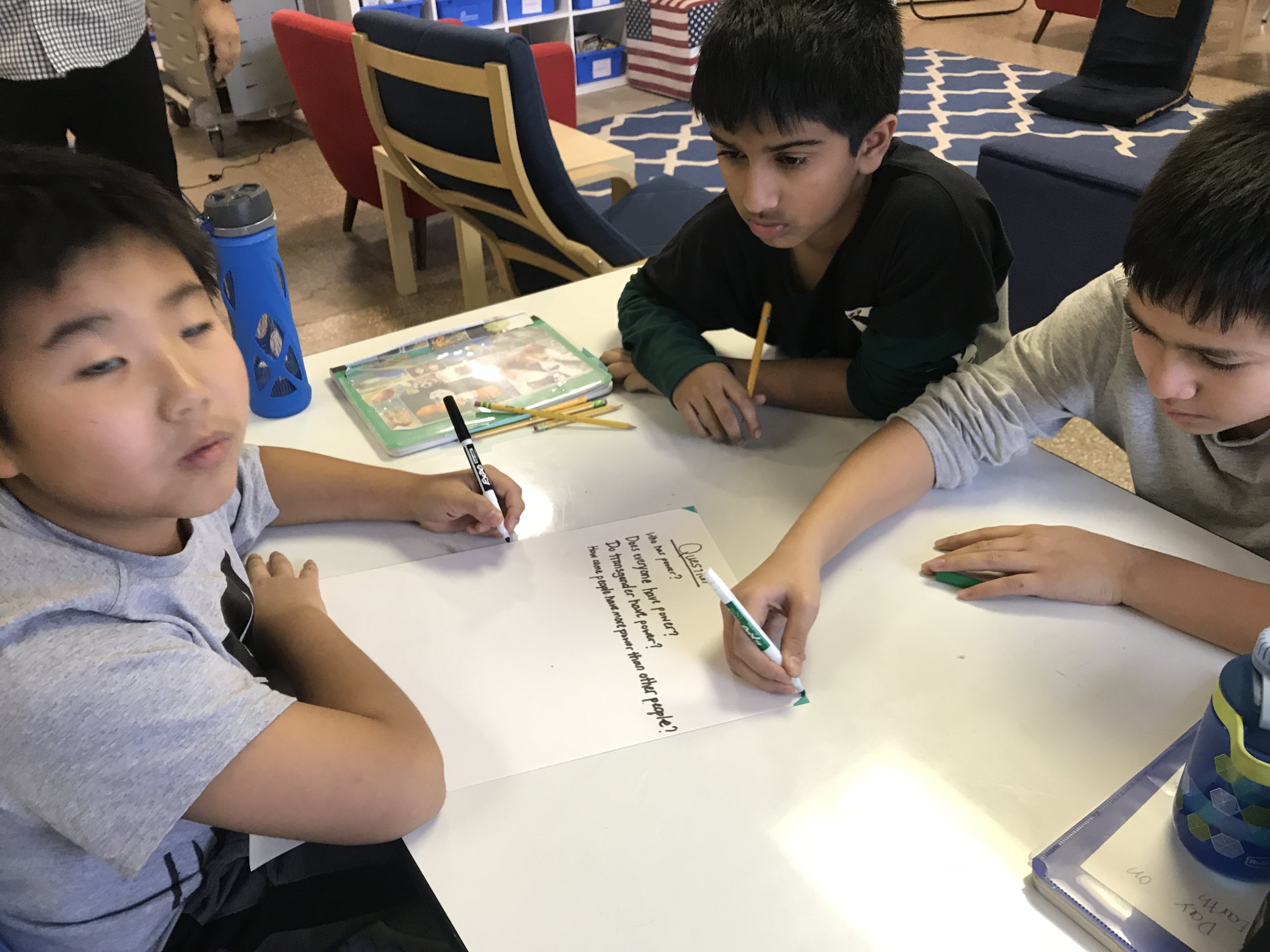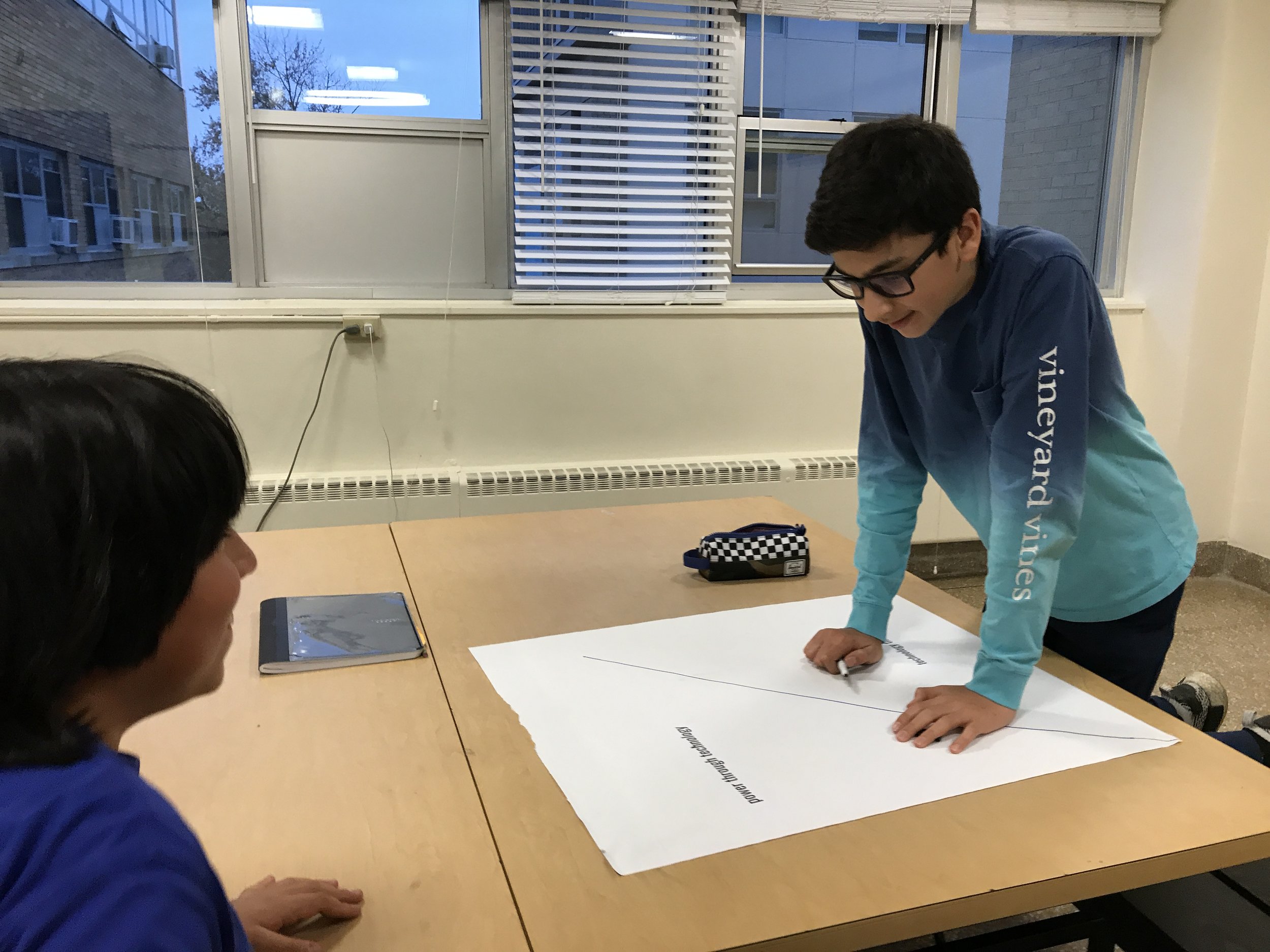 from green energy to dictatorship, monarchies to brand influence, students explored aspects of power and how they interconnect.
Student Work
Here's a sample of some of this unit's student projects!
Alex focused on animal abuse and how humans abuse their power over pets. This PSA urges humans to take a humane and loving approach to our furry friends.
Ellis is an electric racer so he decided to explore alternative fuels, making his very own bio-diesel out of french fry oil from a local bar!
The Blended Genre Research Paper
During each unit, each of our collaborative teams works together to produce a media-rich research paper on their chosen topics and questions. These papers include traditional written research as well as imagery, poetry, and art (both original works and those discovered through their project research). Together, these elements form a collaboratively created document that articulates student learning as well as documents their process as a team— their challenges, achievements and struggles. Click here to experience this unit's BGRPs.